Astronaut Nebula Galaxy Night Light Projector
Regular price
$129.98
Sale price
$69.99
/
---
Description
Transform any room in your home into a magical wonderland.
This Spaceman starry sky projection lamp can bring the mysterious starry sky into your room. You can enjoy the beautiful starry sky to your heart's content.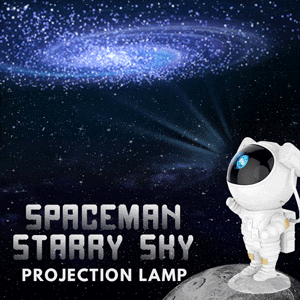 The projection angle is adjustable so you can project the lights onto walls and ceiling.
The starry sky creates a relaxed atmosphere and is great for kids who are scared of the dark especially at bedtime. It works by sparking your kids into imagination, thereby making them feel relaxed.
It can be used as a beautiful projection lamp or luxurious decoration. It is also an ideal choice for collectors.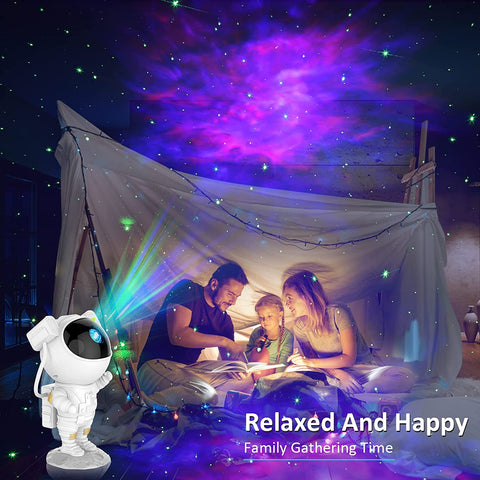 【Astronaut Star Nebula Projector】: The colorful and unpredictable nebula comes in a variety of color combinations and is decorated with flashing star lights, which can be switched by remote control or buttons. The high-definition starlight galaxy is projected onto the wall and ceiling, making you feel like you are in the vast galaxy, creating a romantic atmosphere and enjoying your leisure time.

【Two control methods】: The starry sky light has two control methods: the back button and the remote control. The button on the back can only turn on the light, switch the mode of Nebula and Starry Sky and long press to turn it off; The remote control can adjust the color, brightness and flashing frequency of the nebula and starry sky, as well as switch the machine and timing settings. Give you the most convenient remote control experience.

【Innovative design and unique appearance】: The astronaut's appearance design is novel and unique, echoing the starry sky and galaxy theme, and taking you to explore the vast starry sky. The astronaut's head, which can be rotated 360° with magnetic attraction, allows the nebula to be projected anywhere without restriction. In addition, the astronaut's lunar base is detachable, the arms can be moved, and various poses can be taken, which is also a good decorative ornament.

【Multi-function Design】: Bring a romantic starry night. The starlight can be used as brightness-adjustable night lights, bedroom atmosphere lights, living room sofa table decoration lights, car atmosphere lights, game room decoration lights, small home theater strobe lights, study desks and computer desk decorations.

【Great Gift Idea for Kids & Adult】: As parents, Do you want to create a beautiful night for your sweet boy/girl? As a son/daughter, Do you want to your parents have a relaxing comfortable night to reduce their stress and fatigue? Do you want to give your girlfriend/boyfriend a surprise? It is an ideal holiday gift for your sweethearts, kids, families and friends.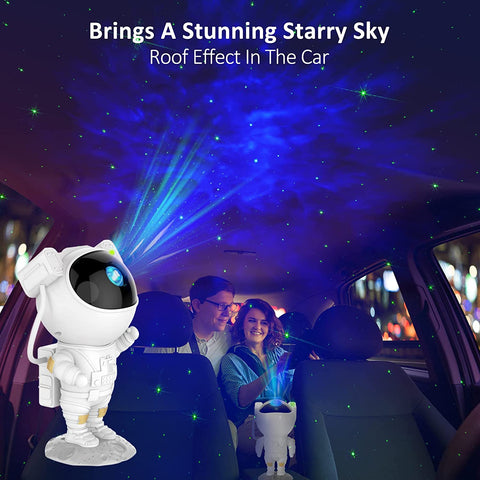 What our customers say
At the end of the day when I'm winding down for bed I literally put this light on and drift off into space. For an overthinker like myself, this is finally a tool to turn your brain off before bedtime.
–Deborah
Relax and unwind
Step into the minds and spacesuits of astronauts, and follow Astro Alan™ into the glory of outer space without leaving the comfort of your home. Relax and let your mind and body float stress-free in the immensity of the universe.
Why Astro Alan™?
It's original. It's authentic. It can't be found anywhere else – because there's nothing else like it. With Astro Alan™ in your room, you've got more than a boring old night light – you've got an intergalactic showcase of nebulas and stars to escape the 9-5 and recharge your batteries.